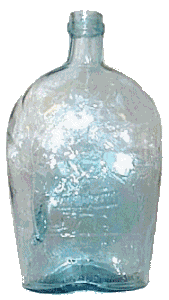 Lila and I have collections in several major categories.
Currently, I have decided to just collect Indian Bottles. I can still collect in all the major categories, because it seems that everybody had an Indian remedy. Bitters, Sodas, Beers, and Medicines seem to have been the most popular. These can be broken down to smaller sub-groups, from Pontilled Indian Bitters (my favorite), to Round Indian Medicines (another favorite). Check out my Indian Bottle pages. If you have one that I don't have listed, you can bet it's "One That I Want"!
Lilarae is from Louisiana and one of her favorite places is the French Quarter of New Orleans. Cafe' au lait and hot beignet at the Cafe' Du Monde is one of our traditions. We can not visit The Big Easy without stopping there for breakfast. She also loves the bottles of New Orleans, especially the bitters and sodas! But, if you have a pontilled New Orleans medicine, you can be sure that it's "One That She Wants"!
I have been collecting since 1962 and I was twelve years old when I went on my first bottle dig at an old gold mine in Perris, California.
I was hooked!
I dug a COCA MARINI / PARIS which should go in my black glass collection, but it is so ugly that I don't even display it, and an unembossed green pint blobtop beer that I display with my green beer collection.
At age 16 we moved to a little town in Northern California called Calistoga. A creek flowed behind our house and along the riverbank were many great places to find bottles.
I dug a bunch!
I also found a lot of obsidian spear points and arrowheads in the bottom of Blossom Creek.
One day when the creek was full of water, I put on my scuba gear and found a DR KILMER'S SWAMP ROOT!
After four wonderful years in Calistoga, I decided it was time to get serious about my education and entered the University of the Pacific in Stockton, California.
Was I in luck!
Stockton had a bottle club!
They also had a University full of beautiful women and that's where I met Lila.
Guess What?
She loves digging bottles too!
She had never been bottle digging before she met me and the idea of poking around in somebody's old privy didn't appeal to her right away, but, it didn't take long!
Her first bottle was an amber pint blobtop beer with embossing. It is a ST HELENA BOTTLING AND COLD STORAGE / ST HELENA CAL.
Needless to say but 40 years later it is sitting in our blobtop beer collection.
We don't get a chance to dig much anymore, maybe now that we live in Oklahoma that will change, but we are still collecting. We attend bottle shows and bid in auctions. We buy from lists in bottle magazines and find bottles on the Internet.
We love old bottles and the friends we've made along the way.
Feel free to poke around in our collection and see what we got and,
HEY!
Maybe you've got "One That We Want!"

Updated 12-16-2010